This is a particularly emotional and heart-wrenching scene in The Summer Will Come. It comes at a point in the book where tensions are magnified as civilians are helplessly entangled and embroiled in the increasing animosity between the British Troops occupying the island and the EOKA freedom fighters.
"As she neared the corner of the street a commotion arose ahead, raised voices, an English accent. She held back, ducking behind a parked car. She peeked out from behind the wheel arch and saw two British troops pull a man from his bicycle, grab his satchel. They pulled what appeared to be papers from inside and threw them into the air, scattering them across the pavement.
Evangelia's heart stopped. She knew what they were, anti-British leaflets and she also knew what the consequences of distributing them were. They both kicked at the bicycle, the sound of the crumpled metal hit her. The man made to run away but one of the soldiers, too quick for him, slapped him across the face, throwing him to the ground. Before he was able to defend himself he was cannoned from all directions by the butts of their rifles; once, twice, three times, on and on.
Evangelia let out a strangled cry which echoed around the almost silent street. She tried to scream but she had no voice. She tried to run towards the man to help him but she found her feet rooted to the ground as if in quicksand. The soldiers didn't so much as glance back after they beat him close to death and walked off, laughing and taunting, calling him a filthy dog. They threw a chair against a shop window which smashed; a mirror image of their state of minds, thought Evangelia. The smell of fear hung in the air and flooded her senses.
Moments later, Evangelia found her voice and ran towards him. The body lay in a crumpled heap. She knelt next to him and turned his bleeding battered head to face her, scared he was dead. She held his head, blood running between her fingers, congealing on her palm. She looked into his eyes…"
BOOK LINK: https://www.amazon.co.uk/Summer-Will-Come-Soulla-Christodoulou/dp/1976908043/ref=sr_1_1?dchild=1&keywords=the+summer+will+come&qid=1588582033&sr=8-1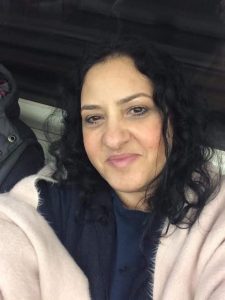 And just in case you don't know much about me here's my bio:
Born in London to Greek Cypriot parents Soulla Christodoulou spent much of her childhood living carefree days full of family, school and friends. She was the first in her family to go to university and studied BA Hotel & Catering Management at Portsmouth University. Years later, after having a family of her own she studied again at Middlesex University and has a PGCE in Business Studies and an MA in Education.
Soulla is a mother of three boys and an adult fiction author. Both her novels Broken Pieces of Tomorrow and The Summer Will Come are available on Amazon alongside her short story Unlocked and her collection of poetry, Sunshine after Rain.
She is a compassionate and empathetic supporter of young people. Her passion for teaching continues through private tuition of English Language and Children's Creative Writing Classes. She offers writing services too in support of businesses, authors and students.
Her love of writing has connected her with a charity in California which she is very much involved in as a contributor of handwritten letters every month to support and give hope to women diagnosed with breast cancer. One of her letters is featured in a book 'Dear Friend', released on Amazon in September 2017. 
When asked, she will tell you she has always, somewhere on a subconscious level, wanted to write and her life's experiences both personal and professional have played a huge part in bringing her to where she was always meant to be; writing books and drinking lots of cinnamon and clove tea.
With much love, Soulla xxx