Sunshine After Rain
In A Nutshell
This is a collection of 30 poems inspired by old sayings and phrases.
Each poem either directly relates to the saying, includes words from the saying or tells a short story or conveys an idea relating to the phrase.
I have covered a number of different themes and ideas including: hope, love, happiness, disappointment, beauty, struggle, resignation, joy and of course that most British of all things, the weather!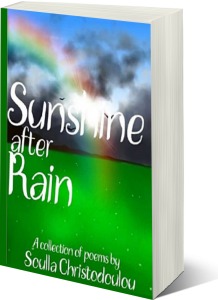 My inspiration for "Sunshine After Rain"
Many of us have grown up listening to
our parents and grandparents
saying these phrases and sayings to us over and over again. I remember
my teachers and friends saying them too.
As I have got older I too say and use many, more than I ever used to. I
wonder whether that's part of wanting to hold onto the myriad of memories
that these old sayings and phrases
often conjure up or whether it's just natural that I revert to them…like reaching for a comforting blanket, a hot bowl of soup or a nice cup of tea!
Either way, I hope you enjoy the poetry as much as I did writing it!