Happy Thursday!
I had a moment with Alan and the moment transpired into a poem… always writing, always creating.
"𝚈𝚘𝚞𝚛 𝚑𝚊𝚗𝚍 𝚒𝚗 𝚖𝚒𝚗𝚎 𝚠𝚑𝚎𝚛𝚎
  𝚒𝚝 𝚜𝚒𝚝𝚜 𝚊𝚗𝚍 𝚏𝚒𝚝𝚜 𝚊𝚗𝚍 𝚏𝚎𝚎𝚕𝚜 𝚜𝚘 𝚛𝚒𝚐𝚑𝚝
𝚈𝚘𝚞𝚛 𝚑𝚊𝚗𝚍 𝚒𝚗 𝚖𝚒𝚗𝚎 𝚠𝚑𝚒𝚌𝚑
  𝚑𝚘𝚕𝚍𝚜 𝚖𝚢 𝚑𝚎𝚊𝚛𝚝 𝚠𝚑𝚘𝚕𝚎
𝚈𝚘𝚞𝚛 𝚑𝚊𝚗𝚍 𝚒𝚗 𝚖𝚒𝚗𝚎 𝚠𝚑𝚎𝚛𝚎 𝙸
  𝚏𝚎𝚎𝚕 𝚜𝚊𝚏𝚎 𝚊𝚗𝚍 𝚠𝚊𝚛𝚖 𝚊𝚗𝚍 𝚙𝚛𝚘𝚝𝚎𝚌𝚝𝚎𝚍
𝚈𝚘𝚞𝚛 𝚑𝚊𝚗𝚍 𝚒𝚗 𝚖𝚒𝚗𝚎 𝚜𝚘
  𝚗𝚎𝚟𝚎𝚛 𝚕𝚎𝚝 𝚐𝚘 𝚏𝚘𝚛𝚎𝚟𝚎𝚛 𝚝𝚘𝚐𝚎𝚝𝚑𝚎𝚛
𝚃𝚘𝚍𝚊𝚢, 𝚝𝚘𝚖𝚘𝚛𝚛𝚘𝚠,
 𝚞𝚗𝚝𝚒𝚕 𝚠𝚎 𝚐𝚛𝚘𝚠 𝚘𝚕𝚍."
Anf if you enjoy poetry my latest release, which is just a year old, includes some beautiful poetry, both famous and written by me. I hope you'll check it out.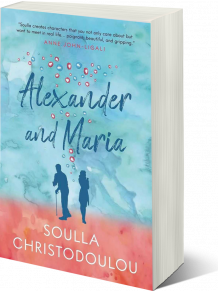 Thank you so much and happy reading until next week,
With much love, Soulla xxx