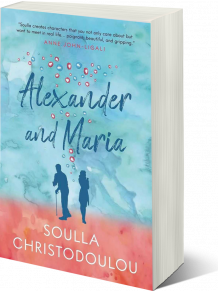 Post written by Soulla Christodoulou
Welcome to this week's blog post! It's been a strange old week with sunshine and rain mixing up the days and leaving me feeling a little bit out of sorts. Does the unsettled weather do that to you too?
Anyway, much brighter are the two reviews for Alexander and Maria recently secured on Amazon.
Both caught my attention because they mention how "fresh" the story is.
I have certainly pushed the boundaries with this story and know that some readers may find parts of the story difficult to read. But isn't good fiction meant to do that; make us think, feel, change our viewpoint, challenge us?
Let me know what you think about books which push standard story lines to the limit. Do you like being challenged? What was the last book which made you think about things differently?
Knowing you're reading my books and enjoying them is always a source of such joy for me so thank you.
I hope you'll have a read and if you haven't picked up your copy of Alexander and Maria you can do so at all online book stores across the UK as well as Book Depository and Amazon worldwide.
And if you've read the online romance between Alexander and Maria please leave a review if you haven't already and be sure that you'll make this author very happy indeed!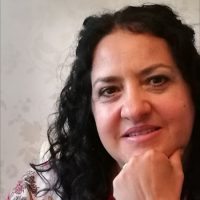 Five-star rating on Amazon:
"I have read and enjoyed other books by this author but this one blew me away. Fresh and originality opened my eyes to the experience of those who live with a disability but it was so much more than that. Beautifully written with empathy and understanding this was a very different love story yet very much one for our times. At times the writing was so beautiful I had to reread a sentence to obtain the full flavour. The characters were flawed yet compelling in their aching need for connection. I loved it!"
Five-star rating on Amazon:
"As a romance reader, I found this book incredibly refreshing. As much as I adore the romance genre (and I really do), it sometimes can get a little repetitive. As both an avid reader and a blogger, I'm always looking for books that step outside the lines a little; ones that do something different or take the issues a little deeper.
This book represented exactly what I wish I could be reading all the time — not this literal story, but just the fact that it went in such a different direction and gave me such an unexpected story that left me with such a strong message.
I could picture every scene so clearly as I read.
This is also such an incredibly relevant story for many people — whether they've personally been through what happened to Maria or Alexander or they know of someone who has — so I really do hope that one day this makes it to the big screen.
Soulla is an author who truly has a way with words. She killed this book. I've read and loved all of her books. Some of her earlier books are my all-time favorites. I've enjoyed all of her latest books, but this is by far the best book she's ever written."
I look forward to reading your comments!
Until next week, Happy Reading.
With much love, Soulla xxx