As a way of celebrating the one year anniversary of The Summer Will Come's release I thought I would share a special interview I did with beadyjansbooks titled "Cyprus: My connection, memories and now". I hope you enjoy reading this and if you haven't read my book that it will spike your interest! 
Thank you for hosting me as part of the blog tour for the new release of The Summer Will Come on 25th March. It's my absolute pleasure to be here and as promised I'm sharing with you my connection with and my memories and thoughts on Cyprus. I'm British born to Greek Cypriot parents who emigrated to the UK in the 1950s at a time when civil unrest and political havoc plagued the island and its people.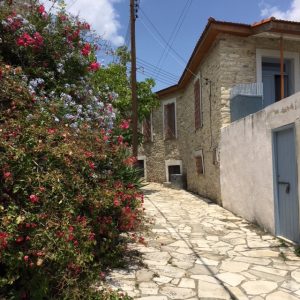 My father's family are from the south coast from a village called Ayios Tychonas, just a few miles from the main city of Limassol and is described in The Summer Will Come. My grandmother and grandfather's house still stands today and here is the oven she baked in (mentioned in the book).
Since 1976 all my family summer holidays growing up were taken in Cyprus in Amathus and we bathed in the sea at Ayia Barbara; a small cove of sandy beach hidden from all the tourists reached by a short dirt track opposite a small stone church on the side of the road after the same name.
My maternal grandmother, my yiayia, was from Kato Lefkara. The village is tucked away in the mountains on the main route to Larnaca and also mentioned in my book. Famous for the traditional lace-making, Lefkaritika, the lace-making made up the majority of the income for families. I remember visiting the quaint village and marvelling at how women would sit outside their homes, bent over their sewing, glancing up to say hello, pleased to be able to take a break. I recall their delight discovering my mother was the daughter of their old neighbour and how they pulled up chairs and brought sweet cups of coffee and fruit in syrup, glyko, for us to eat.
Back in the 70s and 80s the winding roads leading through the Troodos Mountains were mere dirt tracks carved out of the mountains; no barriers, no lanes. I remember our family's convoy of cars and mini vans and campers slugging up the mountain for the 15th August St Mary's Day celebrations; one of the biggest Saint Days and public holidays when not even a petrol station or kiosk would be open for three days.
Once the treacherous roads were navigated we'd look for flat ground and set up our 'feast in the forest'. I can still see bobbing watermelons, wedged between rocks to cool down, in the stream so they wouldn't float away. Our uncles would send us off into the forest to collect wood and twigs for the barbeques and we would disappear turning the chore into an adventure of hide and seek amongst the shade of the tall firs, cones crunching under our feet as our screams of delight echoed all around the open space. Once back, cool boxes and plates and cutlery and trays of oven macaroni, makaronia tou fournou, huge Tupperware boxes of meat balls and salad and creamy soft slabs of feta cheese would be laid out on blankets and tablecloths. Trays of home baked cookies and pastries drenched in syrup, or dusted in icing sugar, tempting us before the meat was cooked.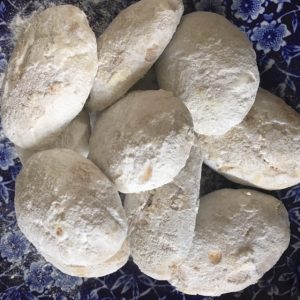 Our trips would end at the Kykkos Monastery; sleeping bags laid out on mattresses on the courtyard's stone floor and we'd fall asleep looking up at the open night sky. Giggling into the night, our hands outstretched holding each other's under the canopy of stars. I remember trees with handkerchiefs and pieces of clothing tied to their branches with blessing requests and prayers for healing and guidance.
But I also remember the huge displacement of people and how this had left its mark; empty unused Mosques and Minarets abandoned and falling into disrepair scattered across the south where Turkish and Greek Cypriots once lodged together in neighbouring villages and shared their foods and customs, there was and still is a clear division because of Turkey's invasion. It has left its mark on both sections of people. Those in the north who were Turkish had no choice but to go back to Turkey and those Greeks in the north escaped to the south, some with just their clothes on their back, never to return to their homes, not even to claim their possessions, homes or land. They instantly became refugees in their own country and years later live in the refugee villages which now make up their communities and their lives.
The Turkish flag carved into the mountainside is a reminder that the country is split. Greek Cypriot people from 1974 are still unaccounted for and the lack of transparency, regarding their whereabouts or fate, on the side of the Turkish government still prevents families from achieving closure by knowing what happened to their loved ones. It is heart-breaking for Turkish Cypriot families too. There have been no winners here.
The presence of the United Nations at the Green Line in Nicosia, the capital of Cyprus, and the armed military soldiers ever present a reminder of this reality. But Cyprus to me will always evoke love, hospitality and warmth; war can never take away the passion of the people or the love they have for their homeland.
Thank you for reading and I'd love to hear about your own memories of Cyprus whether it be family, holidays or traditions you follow, so please comment below.
And if you would like to read The Summer Will Come it is available via Amazon here.
Until next week, Happy Reading, Happy Writing, Happy YOU!
Soulla xxx
---