This year was my third visit to the annual The London Book Fair exhibition, Olympia – and quite unlike me I went not armed with lists of people I wanted to connect with or workshops I wanted to attend and author interviews I wanted to listen to but instead went with a relaxed and open mind.
I was too busy in the weeks leading up to the exhibition to even think about planning my three days there and in hindsight I enjoyed my time there so much more as a result. Sometimes it's just good to let go and allow the universe to do its thing and my time there was punctuated with so many serendipitous moments.
Do you believe in these happy moments? In being in the right place at the right time? 
SERENDIPITY MOMENT NUMBER 1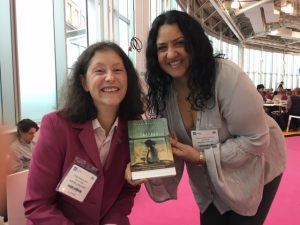 After listening to a presentation by Good Housekeeping on entering novel competitions I struck up a conversation with the lady sitting next to me. Fran Macilvey was visiting the fair from Edinburgh and politely asked about my books and my current WIP. When I mentioned I was working on a story where the main character had Cerebral Palsy (CP) she hugged me with such deep and authentic emotion as she too had Cerebral Palsy and had written a story about her experience. 
I explained how difficult it had been to find secondary sources of information on coping with CP as an adult and she said it's like a taboo subject. CP and children are talked about all the time, but the issues faced by adults are not documented and often not even discussed with your family or friends either. She kindly signed a copy of her book for me and reading it has been most insightful. If you too would like to find out more about what it's like to live with CP then Fran Macilvey's book is an emotional and informative read, Trapped.
SERENDIPITY MOMENT NUMBER 2
It was pouring with rain one morning as I approached the exit of Earl's Court station and so I decided to linger under cover for a few minutes. I got chatting to another lady who was hesitating at the entrance, watching the rain coming down in sheets. We got chatting and I discovered she is a translator of books into Spanish.
I told her about the quote I had received for translating my book The Summer Will Come into Greek and the complications of translation because the dialogue would have to be in Greek Cypriot.
Eventually sitting side by side on the transfer bus to Olympia she gave me the name of a site where translators from all over the world bid for translation projects and said I was sure to find someone to work with and within my budget. How amazing to have connected with someone who was so well-informed about where to find professional literary translation services. 
SERENDIPITY MOMENT NUMBER 3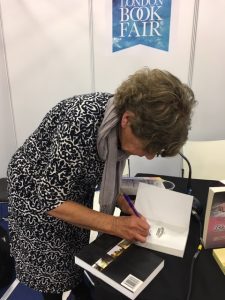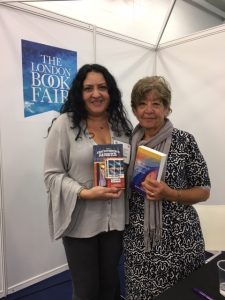 I was keen to find out about translating my book The Summer Will Come into Greek and wandered over to the Literary Translation Centre where I joined The Maltese Literary Scene seminar with authors Lou Drofenik, Antoine Cassar and Loranne Vella. I had never heard of any of these authors but I was interested to hear about their own experiences of having their work translated.
The seminar was most interesting and I was the first to put up my hand to ask a question. "Thank you for a really great session. It's wonderful to hear about your translation experiences. I just wondered whether when you read your work in English (all the authors spoke English well) you get the same feelings, those same powerful emotions, the ones that get you here – pointing to my heart – as you do reading the story in your own language, in Maltese."
In short, all the authors felt that their books read better in Maltese. This too is something I strongly feel since having a short excerpt of my book translated into Greek from English. In Greek, the story seems to lift off the page in a different way, the words sing sweeter, the passion seems deeper.
After the session ended, Lou Drofenik, called me over and we had the most wonderful conversation. I felt as if I had known her for a long time. We instantly bonded and our words flew back and forth in the most comfortable way. She asked about my book and if she could buy a copy to read. I said I have one in my bag, you can have it; a gift from me. So I signed a copy and gave it to her. In turn, she asked a man if she could give one of her books to me and when he said yes, she signed it and gave it to me.
To say this was a magnificently special moment is an understatement. I almost cried with happiness at meeting this warm, smiling woman who I felt instantly connected to. I am currently reading her book, The Confectioner's Daughter, and it is wonderful. I highly recommend it.
SERENDIPITY MOMENT NUMBER 4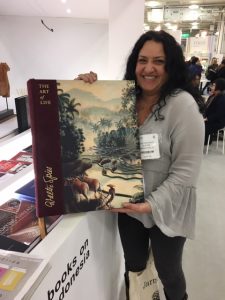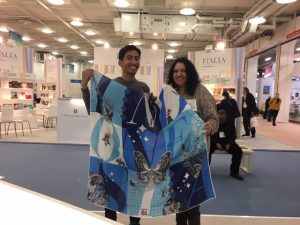 After posting this huge book on my Twitter feed I visited the Indonesia stand to show them how many wonderful retweets and comments I had received on it. They were so delighted to see that they gifted me a silk scarf and it so happened the designer was there too so we had a photo taken together! 
SERENDIPITY MOMENT NUMBER 5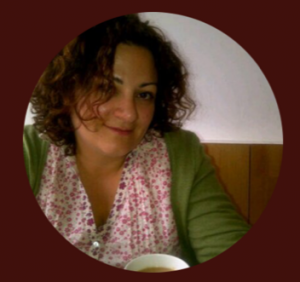 Partied out after three full days at the London Book Fair and a party hosted by ALLi (Alliance of Independent Authors) my dear friend and author Anne John-Ligali and I made our way to the underground after a short bus ride to Knightsbridge. 
Carrying our free books and brochures, our hands sore from the weight of the bags, and our feet aching from all the walking, Anne suggested we wait for the next train when the train already at the platform was chokka full of passengers. It was only a 3 minute wait for the next one so I agreed.
Within minutes of sitting on the next train two women got on. I strained my ears to catch their words. were they talking in Greek Cypriot or Greek…I kept hearing both languages.
I leant towards one of them and asked, "Are you Cypriot or Greek…I can hear both languages." One lady was Greek Cypriot, born in the UK like me, and her friend was from Greece, hence why I caught both languages being spoken. 
We got chatting and it turns out she is a film maker! I told her about my book and we have since connected and are hoping to meet up soon. Who knows where our new connection may take the both of us? But wherever it goes it was an absolute pleasure to meet Athena Mandis of Aegis Film Productions.
So what do you think? Do you believe in serendipity? What amazing situations or connections have you made in the same way? I'd love to hear from you!
Until next time, Happy reading, Happy Writing, Happy YOU!
With love always, Soulla x 
---