Welcome to my very special A Cup of Conversation with renowned thriller author Ian Sutherland who I first came to learn about when a childhood friend's Book Club read his first novel and said they couldn't sleep for weeks becoming so paranoid about their technological devices being bugged! I was intrigued as to how someone's writing could impact on them so physically, emotionally, intellectually and socially and did some digging of my own. I signed up for Ian's newsletter and began to follow (not stalk!) him. His writing is sharp, current and as real as it gets. His background knowledge and experience of IT comes across authentically in his books…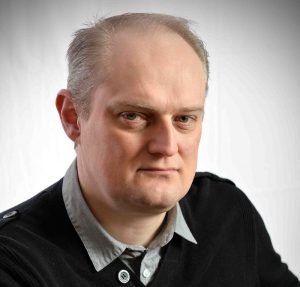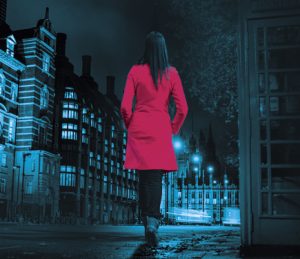 1. When did you start writing creatively?
I've been dabbling with writing creatively all my life, but I just never took it seriously until later. I studied the craft – buying and reading lots of books on writing, plotting, characterisation and so on – and believed all the time I spent reading these how-to books was moving me forward as a writer. But with no actual words on a page, it just turned out to be a classic form of procrastination. However, when I finally did knuckle down, a lot of what I'd learned came out on the page in my writing, so it wasn't all wasted.
2. Which author has most influenced your own writing style?
I think this would have to be Jeffery Deaver, the American thriller author, most famous for his Lincoln Rhyme series.
Deaver is famous for his plot twists. He has mastered the art of the reveal, the double-back, the switcheroo, the double reversal and every form of twist ever developed by authors. In his later books, he's even got triple twists. Every time you think you've figured out where he's going, the whole thing unexpectedly changes. Deaver makes it very hard to predict who the bad guy is.
I go for the same thing in my books. I may not do as many double-takes as Deaver, but I love the big twist you don't see coming. When all you thought is proved to be wrong. That there's something much larger going on. Even in my short novella, Social Engineer, I crafted a cool reversal that catches readers by surprise. But the twists and reveals in the two full length novels are the ones I'm most proud of.
3. What was the last book you read, what was it about and why did you choose it?
Yesterday, I finished the audiobook version of 'Ready Player One' by Ernest Cline. It was recommended to me by my daughter, who said I must read it before watching the Spielberg-directed movie adaptation that's just come out. She knew the 80s computer games and geeky sub-culture would very much appeal to me. I wasn't convinced but took to it and was truly impressed by the scale of Cline's vision and the ever escalating plot that mirrored any classic computer game.
4. What is your favourite reading genre?
I write crime thrillers so it's probably no surprise that this is also my favourite genre. However, I do try to read more widely, occasionally trying out romance, historical fiction or sci fi books. Reading in other genres helps me consider characterisation and plotting differently, as the approaches authors in other genres take are often different to crime fiction authors.
5. How did you choose the title of your book series?
The series is called the Brody Taylor Thrillers, named after the protagonist. However, the original series title was The Deep Web Thriller Series, to reflect the cybercrime elements so prevalent in the books. This, coupled with my original more 'cyber' looking covers meant that I alienated a lot of potential readers concerned about reading tech-savvy books. In the end, I change the covers and blurbs to present them as contemporary crime thrillers and renamed the series, thus hiding the tech elements of the book. The result was that sales immediately boomed, even though the content was exactly the same!
6. Tell us a bit about your latest release?
The most recent novel is called Taking Up Serpents. It starts off with the team investigating two assisted suicides, where the killer has forced the victims to place their hand in a box containing a deadly black mamba. The unusual style of death turns out to be very logical and, as the investigation progresses, the team uncovers a much larger cyber-conspiracy where hundreds of thousands of people will be killed within a few days, leading to a very cool ticking-clock finale. I'm very proud of it and readers love it!
7. What are you working on at the moment/what's next?
I'm working on the fourth book in the series, which will probably complete the overarching plot that spans the series. As with the other books, what's happening at the beginning masks a much larger cyber-conspiracy that the heroes need to discover and then overcome before it's too late. But this time, the stakes are even higher! I can't say too much more than that right now.
8. Where do you write and do you have a writing routine?
I write anywhere and everywhere. I wrote my last scene on a plane flight back to the UK and the one before on the Eurostar to Paris. All I need is my laptop and headphones playing my movie soundtrack playlist and then I can zone out from what's going around me and just write! I would love to say that I write a set amount of words every day, but I simply don't. I work around the rest of my busy life, filling in the gaps with bouts of intense writing. It's not the most consistent approach, but it works for me.
9. How do you "build" your characters?
For me, the overall plot comes first. After this, my characters are created to serve the needs of the plot in order to make the story even more believable. If the characters are designed in the right way, then the choice they make, which drives the plot in the right direction, are more natural. Once the core character traits are identified, I then add colour by drawing on other traits I witness in people I know or have met. I write my books in modern day London, so I particularly like to reflect the multi-cultural vibe that is going on there, which allows me to present quite a diverse set of interesting characters.
10. What steps do you take to ensure your writing is ready for release?
I ignore the usual recommendation to write a rough, but complete first draft and then edit and revise afterwards. Instead, I edit as I go. While it's slower, it means that when I finally write 'The End', I've got a pretty clean manuscript. I then go through it myself, cleaning up grammar and plot inconsistencies before handing it over to my editor. She takes two or three weeks and gives me back the manuscript marked up with hundreds of suggestions, each of which I work through. Once complete, I then send it to a team of about 50 volunteer beta readers who read it in the two weeks before release, pointing out any niggly errors that have slipped through the editing process. By the time it's finally published, it's clean and my beta readers are posting their reviews on Amazon on launch day, which are so important for future readers.
        11. What's your favourite go-to snack when writing?
Because I write anywhere and everywhere, I don't appear to have a regular go-to-snack! However, coffee is very consistent in my life no matter where I am.
        12. Is there any aspect of the writer's life you least enjoy and why?
I'm not the stereotypical introvert writer, so I love all aspects. I obviously enjoy the writing itself, but I even enjoy all the business and marketing side of the job. I'm a believer that 50% of my time needs to be about marketing the books as, no matter how good any book is, it won't sell itself. I therefore invest time in building my brand on social media, especially Twitter, and advertising on Facebook and Amazon, a known rathole for many authors. I even enjoy giving author talks and speaking at events.
Which leaves filling in my tax returns as the element I least enjoy!
        13. What do you most enjoy about face-to-face events and meeting your readers?
I've attended quite a few author events, which are lot of fun to do. People enjoy meeting writers and gaining an insight into the writer's life. However, I've also attended book groups where the book of choice was Invasion of Privacy. It really is fun to meet readers who've got together to discuss, with me, the author, the book that's fresher in their mind than mine! I end up getting queried on decisions I made, especially the death of one of the characters. It's fun to defend and hear the feedback first hand.
        14. You worked in the IT field. Can you tell how this has impacted on your writing?
They say, 'write what you know'. I've applied this in my books, adapting knowledge gained from my IT career to create a contemporary techno-thriller series, that is based on real world scenarios using modern day, not futuristic, technology. Sadly, the plot of my first book came true six weeks after publication, where a Russian hosted website was exposed. It had live video feeds being displayed publicly from private webcams inside people's homes in the UK and USA, the backstory of my fictional novel. I hope the plot of Taking Up Serpents never comes true because, if it does, a lot of people will die because of the lack of security in medical devices.
        15. What two things frustrate you the most about the writing industry and how would you change these?
There remains a wall between traditionally published authors and self-published authors like myself. Having met lots of traditionally published crime fiction authors at the CrimeFest conference last year (where I was invited to be on a panel), I discovered that there are a whole set of issues that midlist authors, in particular, face when dealing with their publishers that I am glad I don't have to deal with. Many of them are aware that the marketing innovation happening in the indie-author space is not being shared with them by their publishers. I believe there's a massive opportunity for authors of all types to tear down this wall and help each other. But the large traditional publishers don't appear to want this as they fight to hold on to their dominance, which is eroding day by day. In time, readers will choose, and their choice will be based on the best stories, especially as technology helps solve the discoverability problem for readers, by focusing on their tastes and not what's being marketed to them.
        16. What's on your current to-do list?
Write the next scene in my latest novel. Write a newsletter for my mailing list, even though I've got very little actual news to share right now! Review and optimise my Facebook adverts. Onboard the next ten authors to my Author Platform Sidekick service, where I help authors expand their brands on Twitter. And fit in a week's holiday to Portugal, where I'm with other friends who won't appreciate me disappearing behind my laptop when I should be having fun with them in the sun! It's a tough life!
It's a tough life indeed but thank you Ian for sharing your writing life with me and my readers. I really appreciate the time you took out of your schedule and I wish you all the best with your fourth novel. Enjoy Portugal!
You can connect with Ian across his various social media platforms listed below and until next time Happy Reading and Happy Writing!
Links:
Twitter: https://twitter.com/iansuth
Facebook: https://www.facebook.com/ihsutherland/
LinkedIn: https://www.linkedin.com/in/iansuth/
Website: https://ianhsutherland.com/
Blog: https://ianhsutherland.com/blogs/
Amazon link to books: http://geni.us/AyYLB