Welcome to A Cup of Conversation! This is one of the most wonderful interviews I've done since I began the author interview series. Chris Toedt, has been so thorough and honest in sharing his thoughts and writing processes with me in this interview post. He is wise and clever and has connected with authors I come across often on my Twitter feed too! He is clearly passionate about his writing and his journey. He has had a lifetime of inspiration and experience-building through his father's own involvement in writing a column for a newspaper and says he always new he would write and be a published writer one day. Come and join me for this inspirational story behind Chris's writing.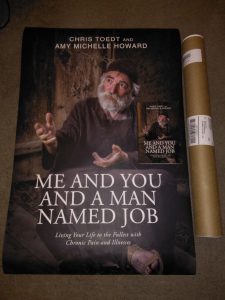 1. When did you start writing creatively?
Soulla, my first attempt at penning a masterpiece was in 1959, I was in the third grade. It was my rewrite of The Wizard of Oz. Well at least I managed to turn out 30 pages, but it wet my appetite for writing. The ink in my blood, came from the influence of my father, Dale Toedt, who was the first Landscape Architect in Oklahoma in 1954. Dad wrote a column for the Tulsa Daily World newspaper, a monthly issue titled, "Landscape For Better Living." We all helped in picking out photographs of jobs he would use in his articles, taking the finished copy upstairs to the editors office or our friend who was the typesetter at the newspaper. Early on I knew I would write and be published one day.
Of course we were all extremely proud of dad's work and he wrote for over fifty years and finally retired to the ranch in 2000. He's ninety now and still "Going Strong." I have encouraged him to write a book about his life.  We call Dad affectionately, "The Frank Lloyd Wright of Landscape Architecture."
He designed the Oklahoma exhibit at the 1964 Worlds Fair in NYC. In fact, Dad brought me home bronze cow and goat bells from Greece's exhibit. Little did I know I'd end up spending many years in Greece.
2. Which author has most influenced your own writing style?
WOW! Of course I have several favorites but I have two authors who have their books in more homes around the world than all other author's combined. They are Job and King David from the Bible. They influenced me and got me inspired to look at the spiritual side of everything.
Job's take on life, how he loved God but mainly how he handled his afflictions so well. That's why I used him in the book.
Job was a perfect man, not a sinless man. Jobs illness and afflictions lasted about one year and it was a horrible chain of events.
King David knew how to love and serve God and how to bless those around him, even though he had sin in his life. He went through a lot of hard times and penned some beautiful scripture known by much of the world. Those two men sold more books then the rest of us will ever dream of.
Of recent authors, Tom Clancy and one of my favorite male Author's, The Hunt For Red October is one of my favorites.
Ellie Douglas, a great female author, living in Auckland, New Zealand. I was not a big fan of horror before I read her Anthology. Wham! Totally addicted now. She recently published an awesome ten book anthology, I was literally transformed into a follower and we chum when we both have a little time to pause and catch up on things.
MJ LaBeff is one of my very favorite female authors in the top three of my 100 best female authors on Twitter. I enjoy her detailed accounts, she never misses a detail in her writings, especially in crime stories. Having a law enforcement background, I'm quick to pick up on accuracy.
Jennifer Irwin and awesome female author living in LA and writing some great romantic books is one of my favorites. I enjoy her style. In her book, A Dress The Color Of The Sky, soon to be a movie, I was in each characters shoes, from the first page.
I was that bead of sweat running down her back. Her writing style grabs a hold of you and doesn't let you go!
3. What was the last book you read, what was it about and why did you choose it?
The book is "Broken" by a dear friend and one of the best modern day female authors, Donna Siggers of England. My name is going to be "mud" now with the other ninety nine on my current top 100 female author list I post on Twitter from time to time but I'll take my chances.
Broken is one of the Warwick Cooper Thrillers, an action packed writing. I highly recommend this book, I bought my first copy as soon as it hit the market. The duo of Katie-Ann Warrwick and Sam Cooper's relationship heats up as they work together again on a kidnap case looking for Kate's friend, and it never let's up. I strongly recommend you read this book.
Donna's a dear friend, who has influenced my writing, pushing me into another genre. I'd had her book on my "to read list"and I knew from reading the short sample on Amazon, it was going to be a Classic. Donna's style is amazing, her writing flows and pulls you into the story like a riptide. She's going places mark my words, she'll be a top selling author soon, and a movie would not surprise me. I encourage her along and I know she has the knowledge and background to pull many more out in the future.
I bought four paperback copies on my second order for gifts, and everyone loved the book. One copy was for my co-author Amy Michelle, who just about has it memorized. My housekeeper is reading a copy and I get her oral review every Tuesday and Thursday like clockwork.
4. What is your favourite reading genre?
My favorites are constantly evolving; Thrillers, Romance, and Health are my favorites. But I enjoy  anything in Travel, Cooking, Entertainment,  and Poetry.
5. How did you choose the title of your book, 'Me and You and a Man named Job'?
Funny you should ask. I love music and one evening I was humming a tune while I was writing and I jotted down the name of the song.
Me And You And A Dog named Boo, by Lobo.
https://youtu.be/aTbBvPoxUkk
I quickly penned the title, Me And You And A Man Named Job. Chronic health issues touch so many people and this title felt right.
6. Can you tell us something about your book.
There are three verses of scripture which have been with me since I started writing this book. I was awakened in the night with a refreshing breeze blowing through a "closed window". Not that these were prophetical, but more of an inspiration which with the loving encouragement from my co-author would not allow me to put down my pen.
Job 19:23:-:25
23: Oh that my words were now written! oh that they were printed in a book!
24: That they were graven with an iron pen and lead in the rock for ever!
25: For I know that my redeemer liveth, and that he shall stand at the latter day upon the earth.
The purpose of my book is to share with the readers how I have handled my chronic illnesses and pain. I chose to use Job because he was a man all too familiar to us, with his many afflictions and agony. His battles, were much like mine, and those of anyone else fighting chronic health issues.  Job literally went through "Hell On Earth".  He lost everything in the first day of his calamity; all ten of his children, servants, thousands of head of livestock, homes, everything but his wife. His physical and mental agony lasted about one year. Can you imagine losing all that and still loving and not blaming God?
Since the book of Genesis is in the front of the Bible, many people think it was written first. Actually Job was written first and most agree it was most likely written by Job and shortly after he was healed, his family restored with ten new children, and his livestock losses were returned doubled. Job 42:10. Someone said to me they thought Job was shorted by God. I asked why? He said, scripture didn't say his family would be doubled.
Job had been afflicted once by Satan, 20 children would have been a handful. Job didn't have a family Bible to go to and find some comfort and soltice in his time of suffering. Yet he stood up for his beliefs, and served God and his health was restored, he lived to two hundred and ten years old, his losses restored, and he lived a good life.
My co-author Amy Michelle and I both know that not all of the answers with our chronic health issues are going to be found in the doctor's office. We are "physical, mental and spiritual brings" Soulla. Doctors can help with some of this but we've found other sources which we share in this writing and more in two more in this series we're working on.
Chronic Pain, Illnesses and Conditions are issues lasting at least three months. Acute illnesses are short term issues. Chronic issues wear on you physically and mentally.  Understanding your personal issues helps not only know what you are dealing with but helps you know how to deal with it. My co-author and I had 58 medical diagnosis between us. Mine started in 1980. We wanted to be able to share with others suffering, how we have not only survived but thrived in our battle. In this the first in a series we started telling how we have dealt with our problems.
When I was first diagnosed with SLE Lupus, Fibromyalgia, Sjrõgrens Syndrome, RRMS Relapsing Remitting Multiple Sclerosis I was searching for answers. I was looking for more than what the pamphlets the doctors were handing out from the government, patting you on the head and saying, "it's going to be alright." Like Hell! My MS worsened to SPMS or Secondary Progressive Multiple Sclerosis. Amy and I started looking for our own solid information to help ourselves.
I began to think about Job and his trials and tribulations, all of the horrible pain, suffering and losses he had sustained and yet he did not blame God. Through it all, Job loved and served God. Jobs wife suffered emotionally those very same losses as Job went through his ordeal.
When she said, "Why don't you curse God and die," the words she used translate "Bless God and die." And Job's friends weren't much help in their attack on their "friend", blaming Job for him having probably sinned and brought this all upon himself. With friends like that, who needed enemies?
People who do not have a Chronic health condition haven't a clue what it's like to live in pain and suffering, day after day thinking there's "no end in sight."
Thanks be to God, our deep down determination to survive and find a solution to the problem and mans God given wisdom, we can learn to "rise above the circumstances we find ourselves in.
Most recently, I found about a year ago, a YouTube video series, by Dr. Robert O. Young, a Bio Chemistry specialist who developed a theory that our bodies are supposed to be in an alkaline state, yet most of us are on an acidic state with our blood way over acidified.
He's been juicing green vegetables and green fruits for over thirty years. In his sixties, yet he looks, " the picture of health", like a forty year old man. I started following his theory and within a month, people were saying, "Chris you look amazing."
I felt amazing and I had gone from taking 100% of my nutrition through a Mic-Key Button feeding tube, to drinking green juices, cut from 38 daily medications to 6 medicines a day including my pain medications.
This is the subject of the next book in our series. Friends, there is Hope?
7. Can you tell us what you're working on at the moment Chris?
My passion is presently centered on the love story of my life. My years in Greece and the book, "I Just Met A Girl Named Maria". It's a beautiful story of an American commercial saturation diver and my Greek goddess Maria Diana Molokyias, covering the five years we were together. The setting is in Athens and on Mykonos Island. I'm about two thirds of the way through writing the manuscript and by all indications it will probably be two or more books. I will of course be writing the romantic stories under my nom de plume. I don't want to embarrass those still living.
8. Where do you write and do you have a writing routine?
I write at an antique drop front secretary desk in my living room. I bought it one Saturday morning as I was passing a little shop in the antique district and when I was looking at the quality of it a salesman said a rediculous price which I look. Obviously they didn't know what they had, solid Cherry wood, and it weighs about 275 pounds. I paid less than $100.00 for a $1,500.00 desk. Lots of big and small drawers, cubby holes, hand carved drawer pulls, brass hardware, wood dowels, and glued, the only screws are in the two hinges. The drawer pulls are worth about $50 each and there are 8 of them.
9. What steps do you take to ensure your writing is ready for release?
Research: I research my topic first if I don't know my subject. M.J. LeBaff a dear friend and female author in Arizona is possibly the most accurate writer I know. She has an eye like an eagle and researches, diligently.
Outline: Sometimes I use an outline, but most of the time I do not. I get into my writing mode and the words start rolling out of my heart.
Write the first and last page, Fill in the blanks, and Soft editing.
After I write it and do a little editing, I let it season in a drawer and I go on to another book for 2-3 months then read it and hard edit like it was someone else's book.
Write, let it rest, read it and be hard on it. I either edit hard or someone who doesn't love it will. The seasoning time gives me time to partially forget and detach from it. Then I see the flaws a good editor would.
Hard editing: This is a time you have to be brutally honest with yourself and look at your manuscripts as the readers will and ask one question. Would I pay good money for this particular piece of literary work? If not, you have a few options.
Cut what's not worthy of being in the manuscript, even if you must bleed it and then gut it like an Elk hanging by its hind feet in the tree, or
Scrap it and start over.
Before I send it to the publisher I have someone read it who will be honest and honestly tell me what it needs.
10. What's your favourite go-to snack when writing?
I eat, drink and breathe for my coffee and dark chocolate! I grind fresh coffee beans from the Repúblic of Panamá everyday. One of my admirers from Panamá City, Panamá, sends me a good supply of beans regularly. Nothing better than fresh strong coffee, and Panamá is known for great coffee (café). I've always enjoyed my coffee and the Greeks are known for making awesome coffee in a Briki over a gas stove. I learned from my driver in Athens, back in the 1980's the finer points of creating a perfect cup, with a pinch of sugar.
I enjoy a little hummus and pita bread, and I try to keep it on the light and healthy side so I add a few Greek olives. I watch my weight so I too can maybe see 99-100 like the rest of the men in my family.
       11. Is there any aspect of the writer's life you least enjoy and why?
Yes, the waiting: The wait after turning in my manuscript to the publisher until I hear it's ready for POD. As an author you've carried your "baby" to nearly full term in your womb, then you ship it off and wait. I'm doing better now about waiting, I always have several other books in the oven baking or on the back burner.
        12. Did your job as a diving instructor and professional diver inform your writing in any way? How?
I think my work in diving, especially on the professional level, influenced my writing and gave me a style. I had a lot of responsibility and keeping accurate records with lots of details was, extremely important. Lots of paperwork, bids, dive log books, technical reports, ship surveys for a major marine insurance company, owners and buyers of vessels for sale, government regulations. I also periodically wrote short articles in trade publications.
        13. What two things frustrate you the most about the writing industry?
Contracts.
Making sure what you have in the contract is carried out without any hitches. Read every word on the contract, get an attorney to check it. Know whats industry standard. My current contract is solid and unusually in my favor. My attorney said it's solid and we did have any problems with it, we'd own the publishing company. I own all rights, movies, everything, a two year contract. They pay all expenses including advertising. Printing cost come out of the books sale price. I give up less percentage of the royalty than I is normal as I received preferential treatment. I'm very pleased.
Agents: Not being disrespectful, but some of the agents I've encountered were more like a fly by night used car salesman. Your money in his pocket and where did he go?
I know an agent can do a lot for your career and at some point in the near future I need to look into retaining one.
        14. Are you a planner or a pantser?
Most of the time I'm a planner, knowing what I'll be doing at midnight, when I'm eating breakfast at 05:00hrs. But sometimes I'm a pantser like when the poop hits the ventilator, I step up to bat and knock a home run, saving the day. That's how commercial salvage diving can be, you can have the best plans in the world on a $35M project, you better be ready for the unexpected, it's coming. Always have a plan B ready!
       15. What's on your current to-do list?
I'm planning on a republication of this book, turning it into a series after the current contract expires on April 20, 2019.
I'm also cranking out a love story of the two and a half years I spent in the Florida Keys which happened right after Greece. I was teaching recreational diving, doing technical diving, and had the privilege of working with some expert "free divers" (breath hold).
I dated a gorgeous school teacher from Jacksonville the entire time I was there.
A wonderful woman, she made the nine hour drive, each way every Friday through Sunday afternoon to be with me and stayed most of the summers and vacation time. All names will be fictitious.
The second biggest book or series is going to be set on Viento Frio, the Repúblic of Panamá.
I have notes from the fourteen years I spent in in the village of Viento Frio with a wonderful woman and her three children and grandson. Passion, diving, great food, monsoons December till April, eating plantains, rice and beans, living in a third world country as one of three white men, two years without indoor plumbing, no running water, undependable electric, nearly dying from all four types of classic Dengue Fever and Malaria. The humidity is like Southeast Asia, 90°f feels like 130°f if you are not in the shade and, I'd do it again in a heartbeat
Links:
Twitter: Chris Toedt Author @christoedt1
I Just Met A Girl Named Maria @christoedt
Facebook: Toedt Publications @authorchristoedt
LinkedIn: Chris Toedt, Author
Website: www.toedtpublications.com
Goodreads: www.goodreads.com
I am wanting to start a Blog soon.
Blog:
Amazon link to books: https://www.amazon.com/Chris-Toedt/e/B077Z25W9Q
YouTube link for trailer: