Next week on the 17th of February it's Random Acts of Kindness Day.
I highlighted the day in my January newsletter and the response I received was just fabulous! 
𝐁𝐞𝐜𝐜𝐚 𝐬𝐚𝐢𝐝, "𝐈'𝐦 𝐠𝐨𝐢𝐧𝐠 𝐭𝐨 𝐭𝐚𝐤𝐞 𝐦𝐲 𝐦𝐮𝐦 𝐨𝐮𝐭 𝐟𝐨𝐫 𝐥𝐮𝐧𝐜𝐡."
𝐉𝐮𝐥𝐢𝐚 𝐬𝐚𝐢𝐝, "𝐈'𝐦 𝐭𝐡𝐢𝐧𝐤𝐢𝐧𝐠 𝐚𝐛𝐨𝐮𝐭 𝐥𝐞𝐚𝐯𝐢𝐧𝐠 𝐥𝐢𝐭𝐭𝐥𝐞 𝐮𝐩𝐥𝐢𝐟𝐭𝐢𝐧𝐠 𝐪𝐮𝐨𝐭𝐞𝐬 𝐚𝐫𝐨𝐮𝐧𝐝 𝐭𝐡𝐞 𝐡𝐨𝐮𝐬𝐞 𝐟𝐨𝐫 𝐦𝐲 𝐟𝐚𝐦𝐢𝐥𝐲."
𝐀𝐧𝐝𝐫𝐞𝐚 𝐬𝐚𝐢𝐝, "𝐈 𝐭𝐫𝐲 𝐭𝐨 𝐛𝐞 𝐤𝐢𝐧𝐝 𝐞𝐯𝐞𝐫𝐲𝐝𝐚𝐲 𝐛𝐮𝐭 𝐰𝐢𝐥𝐥 𝐦𝐚𝐤𝐞 𝐚𝐧 𝐞𝐱𝐭𝐫𝐚 𝐞𝐟𝐟𝐨𝐫𝐭 𝐨𝐧 𝐭𝐡𝐞 𝟏𝟕𝐭𝐡. 𝐓𝐡𝐚𝐧𝐤𝐬 𝐟𝐨𝐫 𝐲𝐨𝐮𝐫 𝐤𝐢𝐧𝐝, 𝐮𝐩𝐥𝐢𝐟𝐭𝐢𝐧𝐠 𝐧𝐞𝐰𝐬𝐥𝐞𝐭𝐭𝐞𝐫."
𝐆𝐫𝐞𝐠𝐨𝐫𝐲 𝐬𝐚𝐢𝐝, "𝐀𝐭 𝐬𝐜𝐡𝐨𝐨𝐥 𝐈 𝐨𝐟𝐭𝐞𝐧 𝐥𝐞𝐚𝐯𝐞 𝐜𝐚𝐤𝐞𝐬 𝐢𝐧 𝐭𝐡𝐞  𝐬𝐭𝐚𝐟𝐟𝐫𝐨𝐨𝐦 — 𝐈'𝐦 𝐚𝐥𝐰𝐚𝐲𝐬 𝐛𝐚𝐤𝐢𝐧𝐠."
𝐏𝐚𝐮𝐥𝐚 𝐬𝐚𝐢𝐝, "𝐈'𝐦 𝐠𝐨𝐢𝐧𝐠 𝐭𝐨 𝐭𝐚𝐤𝐞 𝐦𝐲 𝐦𝐮𝐦'𝐬 𝐜𝐚𝐫 𝐟𝐨𝐫 𝐚 𝐯𝐚𝐥𝐞𝐭."
𝐆𝐢𝐧𝐚 𝐬𝐚𝐢𝐝, "𝐈'𝐦 𝐠𝐨𝐢𝐧𝐠 𝐭𝐨 𝐬𝐢𝐭 𝐚𝐧𝐝 𝐫𝐞𝐚𝐝 𝐬𝐨𝐦𝐞 𝐛𝐨𝐨𝐤𝐬 𝐚𝐛𝐨𝐮𝐭 𝐤𝐢𝐧𝐝𝐧𝐞𝐬𝐬 𝐰𝐢𝐭𝐡 𝐒𝐚𝐦𝐦𝐲 𝐚𝐧𝐝 𝐉𝐞𝐬𝐬𝐢𝐞."
Clearly my VIP community of friends and followers (please join here if you haven't already) are kind people and definitely my kind of people.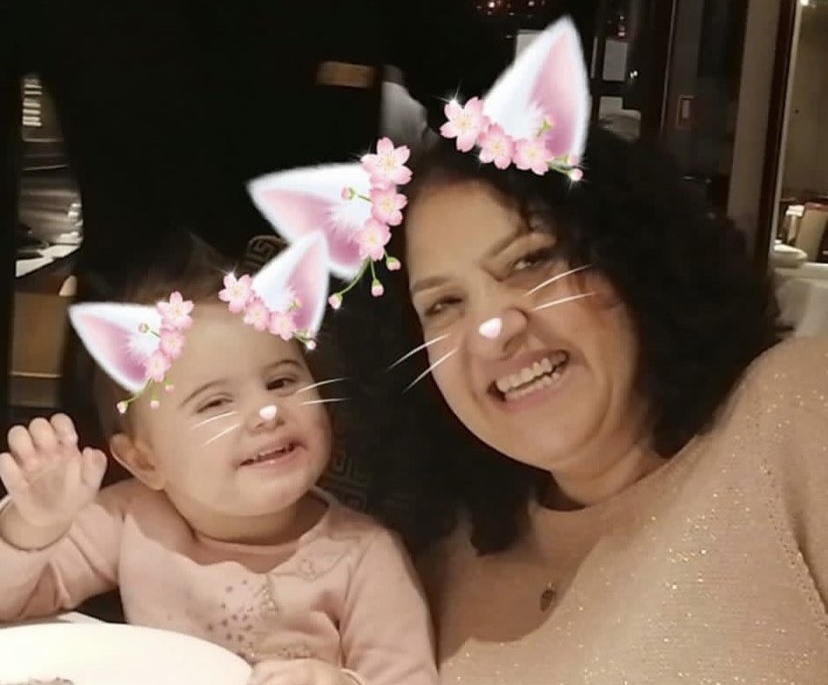 It's easy to make someone smile… this is Eleni, my granddaughter and I. Just adding those little ears and whiskers to the photo made her so happy.
What will you be doing next week (and maybe all the days in between) to be kind?
Let me know below and let's share the love and spread kindness like confetti.
With much love, Soulla xxx