As a writer, I often get asked about my writing rituals and to be honest they do change depending on the time of year, what my other commitments are and what mood I'm in!
So in all honesty my writing life changes… and changes a lot but one thing that remains the same is the space around me and in an Instagram post I said this:
𝕀 𝕕𝕠𝕟'𝕥 𝕙𝕒𝕧𝕖 𝕒𝕟𝕪 𝕤𝕡𝕖𝕔𝕚𝕗𝕚𝕔 𝕣𝕚𝕥𝕦𝕒𝕝𝕤 𝕓𝕦𝕥 𝕥𝕖𝕟𝕕 𝕥𝕠 𝕞𝕒𝕜𝕖 𝕤𝕦𝕣𝕖 𝕞𝕪 𝕨𝕠𝕣𝕜 𝕤𝕡𝕒𝕔𝕖 𝕚𝕤 𝕔𝕝𝕖𝕒𝕣, 𝕦𝕟𝕔𝕝𝕦𝕥𝕥𝕖𝕣𝕖𝕕 𝕒𝕟𝕕 𝕢𝕦𝕚𝕖𝕥. 𝕀 𝕒𝕝𝕨𝕒𝕪𝕤 𝕨𝕠𝕣𝕜 𝕠𝕟 𝕞𝕪 𝕝𝕒𝕡𝕥𝕠𝕡 𝕒𝕟𝕕 𝕙𝕒𝕧𝕖 𝕖𝕧𝕖𝕣𝕪𝕥𝕙𝕚𝕟𝕘 𝕀 𝕟𝕖𝕖𝕕 𝕒𝕣𝕣𝕒𝕟𝕘𝕖𝕕 𝕒𝕣𝕠𝕦𝕟𝕕 𝕚𝕥. 𝕀 𝕙𝕒𝕧𝕖 𝕞𝕪 𝕕𝕚𝕒𝕣𝕪, 𝕞𝕪 𝕟𝕠𝕥𝕖𝕓𝕠𝕠𝕜𝕤 𝕨𝕚𝕥𝕙 𝕞𝕪 𝕣𝕖𝕤𝕖𝕒𝕣𝕔𝕙 𝕟𝕠𝕥𝕖𝕤, 𝕞𝕪 𝕡𝕙𝕪𝕤𝕚𝕔𝕒𝕝 𝕟𝕠𝕥𝕖𝕤, 𝕡𝕖𝕟𝕔𝕚𝕝 𝕔𝕒𝕤𝕖, 𝕗𝕖𝕝𝕥-𝕥𝕚𝕡 𝕡𝕖𝕟𝕤 𝕗𝕠𝕣 𝕔𝕠𝕝𝕠𝕦𝕣-𝕔𝕠𝕕𝕚𝕟𝕘, 𝕡𝕠𝕤𝕥-𝕚𝕥 𝕟𝕠𝕥𝕖𝕤, 𝕒𝕟𝕕 𝕒 𝕘𝕠𝕠𝕕 𝕡𝕖𝕟. 𝕀 𝕒𝕝𝕞𝕠𝕤𝕥 𝕒𝕝𝕨𝕒𝕪𝕤 𝕙𝕒𝕧𝕖 𝕒 𝕞𝕦𝕘 𝕠𝕗 𝕔𝕚𝕟𝕟𝕒𝕞𝕠𝕟 𝕤𝕥𝕚𝕔𝕜 𝕒𝕟𝕕 𝕔𝕝𝕠𝕧𝕖 𝕥𝕖𝕒.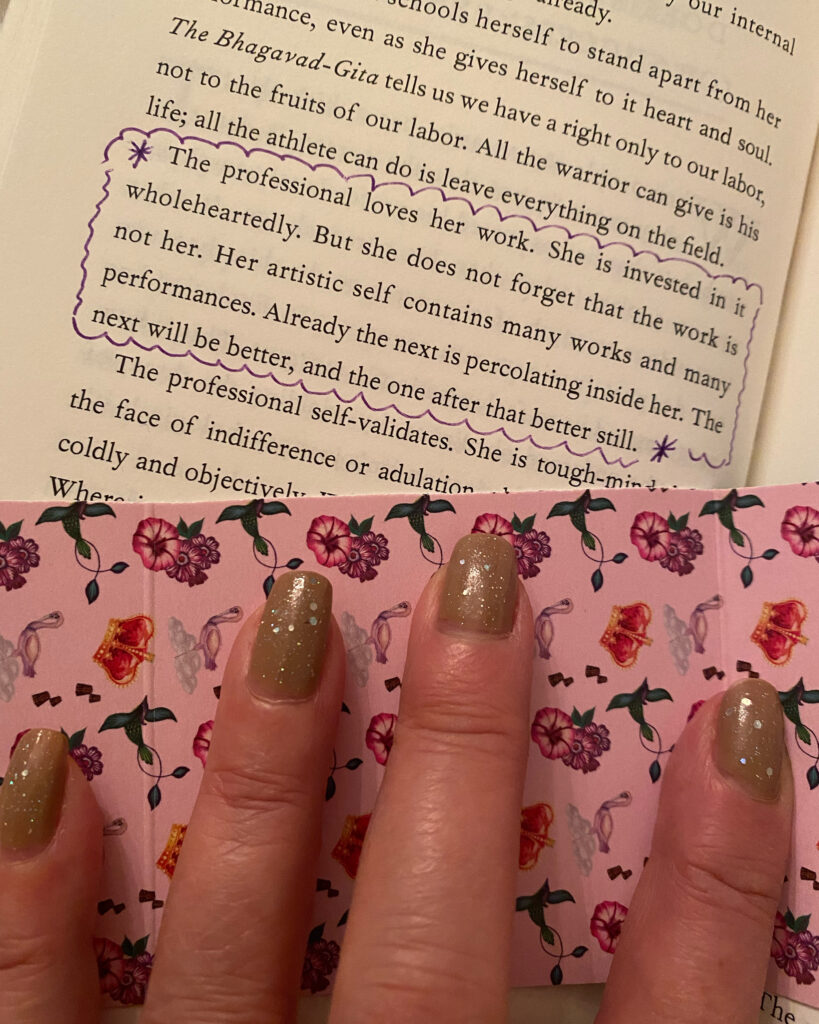 The picture above is of a highlighted quote in the book ( a great book for authors and creatives alike) by Steven Pressfield called The War of Art.
"𝐓𝐡𝐞 𝐩𝐫𝐨𝐟𝐞𝐬𝐬𝐢𝐨𝐧𝐚𝐥 𝐥𝐨𝐯𝐞𝐬 𝐡𝐞𝐫 𝐰𝐨𝐫𝐤. 𝐒𝐡𝐞 𝐢𝐬 𝐢𝐧𝐯𝐞𝐬𝐭𝐞𝐝 𝐢𝐧 𝐢𝐭 𝐰𝐡𝐨𝐥𝐞𝐡𝐞𝐚𝐫𝐭𝐞𝐝𝐥𝐲. 𝐁𝐮𝐭 𝐬𝐡𝐞 𝐝𝐨𝐞𝐬 𝐧𝐨𝐭 𝐟𝐨𝐫𝐠𝐞𝐭 𝐭𝐡𝐚𝐭 𝐭𝐡𝐞 𝐰𝐨𝐫𝐤 𝐢𝐬 𝐧𝐨𝐭 𝐡𝐞𝐫. 𝐇𝐞𝐫 𝐚𝐫𝐭𝐢𝐬𝐭𝐢𝐜 𝐬𝐞𝐥𝐟 𝐜𝐨𝐧𝐭𝐚𝐢𝐧𝐬 𝐦𝐚𝐧𝐲 𝐰𝐨𝐫𝐤𝐬 𝐚𝐧𝐝 𝐦𝐚𝐧𝐲 𝐩𝐞𝐫𝐟𝐨𝐫𝐦𝐚𝐧𝐜𝐞𝐬. 𝐀𝐥𝐫𝐞𝐚𝐝𝐲 𝐭𝐡𝐞 𝐧𝐞𝐱𝐭 𝐢𝐬 𝐩𝐞𝐫𝐜𝐨𝐥𝐚𝐭𝐢𝐧𝐠 𝐢𝐧𝐬𝐢𝐝𝐞 𝐡𝐞𝐫. 𝐓𝐡𝐞 𝐧𝐞𝐱𝐭 𝐰𝐢𝐥𝐥 𝐛𝐞 𝐛𝐞𝐭𝐭𝐞𝐫, 𝐚𝐧𝐝 𝐭𝐡𝐞 𝐨𝐧𝐞 𝐚𝐟𝐭𝐞𝐫 𝐭𝐡𝐚𝐭 𝐛𝐞𝐭𝐭𝐞𝐫 𝐬𝐭𝐢𝐥𝐥."
𝐒𝐭𝐞𝐯𝐞𝐧 𝐏𝐫𝐞𝐬𝐬𝐟𝐢𝐞𝐥𝐝
And I strongly agree. Without the attitude that I am doing something worthwhile and that will get better the more I do it I could not be a writer, the author I am today, the author I will be tomorrow.
What do you think? How do you approach your art or creative endeavour?
With much love, Soulla xxx