This week I'm giving you a sneak excerpt of Part 10 of my 12 Part Writers Guide – Off-Line Marketing To Sell Your Book.
What is marketing?
"Book marketing is about creating a connection with your books
and the people out there who want to hear about them."
Soulla Christodoulou
In a nutshell it simply means ensuring that what you have to sell (your book/s) find a way to those who are likely to be interested in it/them. It is about finding a way to bring the two together in a concise, effective and efficient way. Ideally, you should find this an enjoyable experience.
Book signing event
You will want to get as much exposure off line as well. We have already talked about groups that you can join and getting your books in bookstores to do book signings.
My book signing event for The Summer Will Come took place in a small local café which features in my first book and so I already had a connection to it as did many of my readers.
It took a lot of planning but it was certainly worth it and I have blogged about it too so you can have a read and get some ideas for your own book signing event.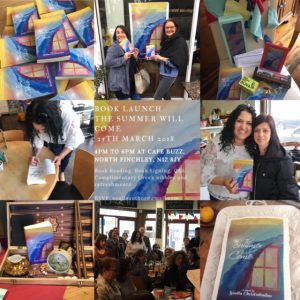 Pictures from my own book launch for The Summer Will Come
Sunday, 25th March 2018
Book signings are the best way for you to get exposure with your book and often small independently-owned book shops will likely support local authors so start by looking in your local area.
You will probably have to supply the stock and sell what you can during the book signing but if it goes well the chances are the book shop will take on a few copies, sometimes on a sale or return basis, and see how they sell.
You will probably have to pay a commission to the shop too so take this into account when negotiating the retail price of your book. In all honesty, this is something I have not yet tackled or planned for, but it's certainly on my marketing to-do list!
Book distribution
Most larger bookstores, such as Barnes & Noble, Borders and Waterstones will want you to go through the main office in order to have your book stocked on their shelves.
These stores will want to see a copy of your book before they place an order. This can be time consuming for you, but is well worth a try and if your book is accepted who knows where sales will take you.
You can use a book distributor to distribute your book to local bookstores to get them on the shelves. This may be easier than going through the corporate route.  You will have to buy the books from the publishing company in order to get them to the distributor. 
The distributor will then work to get the books to the major bookstores. Again, this is a tough sell. Best sellers from major presses have more shelf space in bookstores as well as prominent shelf spaces.
Just like in the supermarket, the biggest distributors have the most attractive shelf space. If you think that you will see your book on the center shelf at the major bookstore, think again. If they take your book, it will be on the shelves.  This is why you need to promote the book with book signings.
You should still do what you need to do to get the book at the bookstore.
Marketing material
Make sure that you join an off line group of self-publishers and take advantage of book fairs that are made for self-publishing authors. You can also make up bookmarks or small sample booklets of your first chapter so that they can be handed out at these fairs to attract attention and build awareness for your writing. They are a great way to start a conversation too…and you never know where that initial hello will lead to!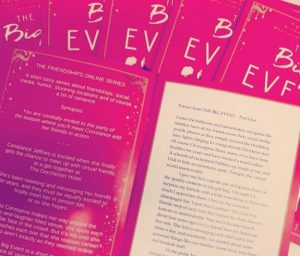 This author, Anne John-Ligali, has published a series of e-book short stories so had no physical product to promote so these printed booklets of the first chapter are genius!
The bookmarks should have information about the book as well as where readers can find it and of course, don't forget to add your social media accounts and website details too.
You have to do some legwork to get your book out there to the public. You need to be sure to do as much as you can to get the book information to as many people as possible; contact your local radio station to do an interview, think about local museums which may have an interest in your book if it's historical fiction, local newspapers and of course there's always book bloggers and book reviewers.
Don't be shy about asking for support. I write a monthly piece in my local Greek Orthodox Church newsletter and donate 20% of my signed book sales to the church. By doing this I am connecting with my local Greek community and supporting my church too…
For the full guide and for the rest of Part 10 you can download the 12 part Writer's Guide from my website. It's easy to download and you can pay by Credit Card or through PayPal. The guide includes all my experiences of being a self-published author as well as links to specialist writing and publishing organisations, hints and tips from other authors  opportunity to ask me questions and to tailor each aspect to your writing journey. Success comes in planning and being prepared so why not download the guide now.
And until next time, Happy Reading, Happy Writing, Happy Marketing, Happy YOU!
With love, Soulla x
---