Hello and welcome to A Cup of Conversation where I am joined by debut children's author Klio Ftika. I have been swapping Instagram messages with Klio for a few months now and a few weeks ago we arranged to meet up in person. I was so excited! I mean how often do you get the chance to actually meet a fellow author with whom you've built a friendship with?  So off I went to Hampstead and to say Klio and I chatted like a couple of old friends is an understatement. We talked books and writing and online and offline marketing for our books as well as our experiences of writing and bringing up our families. She is a real inspiration and for any parent, carer or teacher looking to teach their children how to eat healthily and have some fun along the way then Klio's book Monsieur Mel's Tasty secret is the books for you. So thank you for joining us and I hope you enjoy Klio's interview with me today.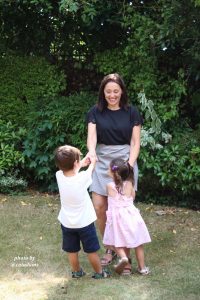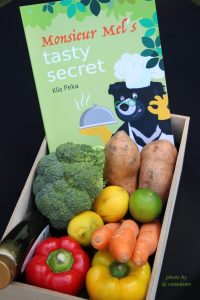 1. When did you start writing creatively?
I believe I first started writing creatively when I was about 12 years old. It was just a game I played with Sofoula, my best friend. We used to write short stories for one another as heroines. The setting of our stories was unexpected, but we always ended up married to our favourite movie stars! It was just a childish activity, but it was then I got hooked. I started writing more intensely when I was working as an EFL teacher. We used to produce plays for our 5 year-old students. I had to write the roles for 70 students and sometimes song lyrics (luckily, not the music though; I am completely tone deaf).
2. What inspired your children's book Monsieur Mel's tasty secret?
One day I wanted to explain to my two children why they should make healthy food choices. I was really surprised to find out that there is only a handful of books that explain that in a convincing, child-friendly way. I felt there was a need to be met in the book market and I started working on it. Therefore, Monsieur Mel's tasty secret was not purely a product of imagination.  It took me two years of research to write and publish.
3. What responses to your book have you had from the adults who but it and the children who read it? 
I am very happy to say that the response is surprisingly very warm by both parents and children. And I say surprisingly, because I have just started to learn how I can promote my book, so there is still a lot to be done. Due to the excitement of the readers as expressed in my Facebook page, my book attracted the attention of Aiakidon Publications in Greece. They purchased the Greek rights of Monsieur Mel's tasty secret, translated it into Greek and now distribute it in Greece and Cyprus. Also, for a while I have received—via Instagram—beautiful pictures of my book from fans of the book in different landmarks around the world. I felt very honoured and I hope it will continue. Please, keep them coming!
4. Tell us a little about the story of Monsieur Mel's tasty secret.
Monsieur Mel's tasty secret is a fun picture book that teaches young readers the positive effects of vitamins and healthy eating without demonising sweets. In a few words, Lora, a cheeky witch with a sweet tooth, has stolen all the desserts for the Queen's party. Monsieur Mel, the chef and the Queen come up with a plan to teach Lora a lesson with the help of Ted, our young hero. And they have a tasty secret which I am not going to reveal. You will have to discover it yourself. In this book, I have also included 8 delicious, child-friendly, nut-free recipes (these recipes and some new ones are now also available in YouTube and Instagram).
5. What is the key message in the book and why should parents, teachers and guardians read it with their children and pupils? 
The message is quite straight forward. Eating healthy, vitamin-filled food is good for you; Eating too many sweets is not. In my opinion, this is a book that needs to be in every Early Years and KS1 school library. In fact, healthy eating is in the Early Years curriculum, thus, this book would be a great tool for the teachers who want to explain what vitamins are and do as well as motivate children in a novel fashion.
6. Who is your favourite character and why?
My favourite character is Lora! She is the 'baddie' and the character I researched and reflected about the most. Nutritionists told me that her character had to vividly demonstrate the detrimental effects of unhealthy eating and psychologists would warn me against body-shaming or scary messages that would make Lora an unpopular character. After a lot of research and consideration, I do feel that I have succeeded in young readers seeing Lora as a likeable 'baddie' and perceiving her character as humorous and light-hearted.
7. What are you currently working on?
I am currently working on a story that explains to pre-schoolers why they need to go to school. I am about to finish and hopefully I will be able to illustrate and publish it over the next six months. There is no title yet!
8. How much research did you have to do for your story?
When I first started this project, admittedly I had no idea what I was getting into. I had to do a lot of research since this is a very important topic. I talked mainly with nutritionists and psychologists. I then talked to chefs and I finally worked with Litsa Zarifi to come up with recipes that are truly child-friendly and safe. We concocted eight recipes, of which I then shot videos and posted in YouTube to demonstrate how to execute these with little kids. What I say to parents is 'sit back, relax and let your kids treat you'.
9. How has being a primary school educator and a parent helped you in writing this book?
Being a teacher, a lecturer of early years and a mum helped me a lot. These three roles offered me a strong theoretical and practical basis to understand children's likes, interests and abilities, at each developmental stage. However, this knowledge could be somehow restrictive to creativity and imagination that runs wild. I tend to overthink which is not always pleasant or ultimately useful, but I feel a deep responsibility towards the parents and their little ones. I want my books to be exciting but also safe and educational. You might think that I exaggerate but I have come across picture books that left my kids and my students really confused. Picture books are not always age appropriate, despite the claims.
10. Which three aspects of the writing journey have you improved on since writing your debut children's book?
So this is confession time! I know what areas I must improve but I am still working on them. I am trying to improve on my time management and organising my space. But with two young children I find it very hard to stick to my deadlines and keep my writing space clear from Barbie dolls and Lego bricks. What I have improved on is how I cope with reviews and editing. At first, I had great difficulty accepting that my work is not the 'masterpiece' I thought. But little by little, I have learnt to listen, accept and adjust.
       11. What two things do you do to support your fellow writing community?
I mostly support novice indie writers with technical advice and knowledge that comes from practical experience. I, also, try as much as possible to promote fellow authors' work through my social media accounts. I do not have many followers yet, who could transform the fortunes of fellow authors, but every little push counts.
       12. What are your three main goals for the rest of 2019?
For the next few months left in 2019, I will, first, organise and execute a book promotion campaign; second, finish with publishing the 2nd edition of 'Monsieur Mel's tasty secret'; and, finally, publish my second picture book.
Thank you so much for joining us Klio and I wish you all the best as you plan the release of your next book! Thank you too to my weekly readers and if you would like to link up with Klio you can do so on her links listed below.
Until next week, Happy Reading, Happy Writing, Happy You.
Big hug, Soulla xxx
Links:
Instagram: https://www.instagram.com/kftales/
Facebook: https://www.facebook.com/kftales/
Linkedin: https://www.linkedin.com/in/kleio-ftika-b59ba6142/
Website: www.kftales.com
Amazon link to books: https://www.amazon.co.uk/Monsieur-Mels-tasty-secret-Ftika/dp/1999973704/
Youtube: https://www.youtube.com/channel/UC-h0u-Se6h-hhSTM7cTiHbw