Welcome to this week's post and Happy New Year 2020.
I want to share a poem with you.
It was inspired by one of the trips to the Pherozeshah Mehta Gardens, at the top of the Malabar Hills, made on my last day in Mumbai on Tuesday 27th February 2018.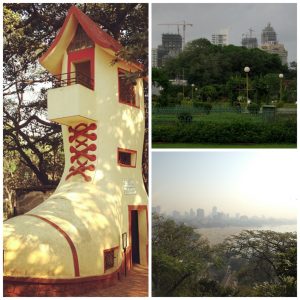 Source: https://theculturetrip.com/asia/india/articles/the-history-of-the-hanging-gardens-of-mumbai-in-1-minute/
It was a scorching day and ordinarily I wouldn't have made the trip on such a hot day but being our last day in India there was no time to waste. The Hanging Gardens on the western side of the hills were everything and more I had imagined them to be. Beautifully terraces with hedges clipped into the shapes of animals and beautiful views across to the city below. There were walkways and paths and swings hanging from the branches of trees and a huge boot house where children played.
After, I remember walking down the winding road through the mountains all the way back down into Mumbai. I was hot, sticky and my head was pounding from the heat and probably dehydration.
We stopped and walked across the wet sandy beach and spent some time just watching the iridescent Arabian Sea and the beach life. My head felt better after that. We sat on the huge cement wall high up and looking over the edge across the wide beach. 
I kicked off my flip flops and dangled my feet over the wall watching the falling sunset…
MY POEM
Tucked away from the man-made concrete city
Lies a place, hiding trees
Where lovers entangled
Walk side by side along cobbled paths
Strewn with curled, golden leaves
Swept briskly away by 
the enthusiastic sweepers' brooms.
Peaceful birdsong and swinging seats
Sculptures of dice cubes and a boot house
Offer seats and benches to nestle away from the 
Burning, searing sun
As shadows fall purple, green.
Women sit and children chase
Full of smiles,
Sweep long hair away from their faces 
As giant palms and barky ferns offer shade
and catch the breeze in their huge shiny leaves.
The grass in view dotted with a patchwork of flowers
Appears soft and kind
Earthy ground patches
call them to rest
horizontal beds to recline upon
Earth's mattress of love.
Have you visited India? What do you remember most about your trip? What has stayed with you? What surprised you? What did your trip teach you about life or yourself?
I'd love to hear from you so please comment below 🙂
And until next time I wish you a Happy New Year 2020 and may this year bring you Love, Laughter and Light.
With my best wishes, Soulla xxx
---