Hello and welcome to A Cup of Conversation where I am joined by a dear friend and rom-com author Anne John-Ligali who is releasing the third part of her Friendships Online series tomorrow! I've read the book and it certainly keeps you thinking, feeling and wondering with a pace that moves you swiftly through the book while throwing in a number of surprises along the way.  In this interview Anne reveals her writing process and her own experience of motherhood and online friendships which influenced the story line of The Dinner in the Sky. So thank you for joining us, grab your cuppa and let's see what else Anne has to reveal in her A Cup of Conversation.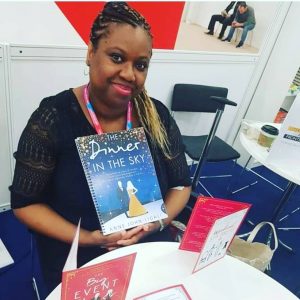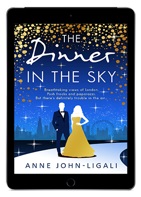 1. When did you start writing creatively?
I began writing creatively in the mid-noughties. I was working for an architectural firm, and I was reading a novel at the time. In between reading this book, I would scribble down scenes and pants my way along until I couldn't write anymore. This felt good, and I would continue creating scenes and have fun not unsure of how they would end up.
2. What inspired your three-part Friendships Online series?
It all started in one of my writing groups in 2016. It was a bit of homework set, and we had to write an allegory. I was not able to get my head around writing one, so I came up with The Big Event. A year after writing that I found the story while having a clear out and had the urge to extend the lives of the characters and began brainstorming as to where I could take the story. The spa seemed like a natural place to take the story. As I neared the end of The Weekend Spa Break, I was thinking where I would take the next part? A premier? The Dinner in the Sky was initially called The Picnic in the Sky that was intended for a summer release.
3. Which of your characters is your favourite, and why would your readers like them?
This is a hard one. I love Constance for her strength and big caring heart. Readers would like her because of those qualities. I feel a lot of women, especially nowadays will relate to her, she is strong, she's a fighter, she is mum and dad in one while she's also chasing her dreams and realises the importance of having key people in her son's life that would help shape him.  Having said that, I'd also like to add how much I like Estelle for her honesty, sense of humour and how she approaches things. Karmel, I wasn't' sure about in the beginning; however, I warmed to her in the end. She is really just a sweet lady who wants to be love. Stan and Jagger are a pair, and they bring the giggle-factor to the story.
4. How has your own life inspired your writing?
Being a mum to a son with autism has inspired many of the scenes in the book. Constance is not just a mum, she is a mum with a child with needs, so there's an edge to her. You see the celebratory moments of her life that involve Charlie, you see the moments that pull at your heartstrings. There are a lot of moments in my life that was worthy of recreating especially to bring awareness to the autism and to give an insight into what could happen to a-day-in-the-life, or a-few-good-weeks-in-the-life of a mum who cares for someone with autism.
5. How much research did you have to do for your newest story, The Dinner In The Sky, to read authentically? 
Not much. The lives of these characters are mostly spent online. That's me to a tee. The only parts I researched was the pickle that Maxwell got himself in when he was young. I had to fact check that.
6. Who has had the most significant impact on your writing, and how have they supported your journey as a writer?
My kids, my mum, a large number of books in the women's fiction and chick lit genre and watching TV.  My kids have come up with the funniest one-liners that I have jotted some of them down.  And of course, my mum supports me a huge amount when it comes to giving me lots of chances to have writing time.
7. What will you be writing next?
More novels, novellas, and there's a co-writing project in the pipeline with a much younger writer.
8.What three pieces of advice would you give a new writer?
If you want to write novels, know the importance of the 8 story milestone structure, what each one means, and where they go. When I was an aspiring writer, I bought many books that puts so much emphasis on the three-act structure, that I missed all the other more important miles stones that make up the three acts anyway. Once you've sorted your 8 milestones, that's your three acts right there!
Secondly, bricks and mortar writing groups are great to be a part of. They're not for everyone, but it's great to have the support from other authors who are starting out too. I still go to writing groups as I enjoy the interaction, which is not the same as being online.
Thirdly, social media presence is key. You don't have to be everywhere, and not all platforms work for everyone. However, social media, in my opinion, is great when used as a tool. It's great to let people know who you are, meet like-minded people in your community group, some of those friendships could or more than likely end up in the real world if you're local and it's a great thing to meet offline too. Lastly, I would also say that for social media to work for you, you have to work it, so always engage with those who find the time to 'heart' you, message or Retweet you, it's not always possible to do every one, but so long as you keep that in mind, someone out there will always remember you too.
9. What three things do you do to support other authors?
Reviews on my blog, liking or hearting their posts, engaging with them about their work and try to get to know the person behind the profile. (Without being nosey)
10. What are your three main goals for the rest of 2019?
First, to write more, second, to consider other formats for my books. At the moment, my work is only available in e-books, and I'm excited and looking forward to another curve in my journey to see maybe an audible or a paperback. And thirdly, have a holiday abroad, it's been a while.
Links:
You can download the series from here:
Twitter:  https://twitter.com/AnneJohnLigali
Instagram: https://www.instagram.com/anne_johnligali/
Facebook: https://www.facebook.com/annejohnligali/
Website: www.annejohnligali.com
Blog: www.booksandauthors.co.uk 
The Friendships Online Book Trailers
The Big Event Book
The Weekend Spa Break
The Dinner in the Sky
The Friendships Online Book Soundtrack on Spotify
Click here to enjoy the songs from the entire series.
Thank you for joining us Anne and I wish you all the best as you launch your book! It was certainly a great read and to my weekly readers, if you would like to link up with Anne you can do so on her links listed above.
Until next week, Happy Reading, Happy Writing, Happy You.
Big hug, Soulla xxx