Hello and welcome to a very special blog post where I welcome you into my home and to one of the most favoured traditions of our Greek Orthodox Easter celebrations.
This year our Easter has come a week later as we follow the Julian Calendar and today I am making flaounes with my mum and my sister Lia.
Flaounes are Cypriot Easter breads made with pastry filled with a cheese, egg, raisin and fresh mint filling. Every year we get together at my mum's house on Holy Thursday to make these wonderfully morish breads which leave the smell of baked cheese, bread and mint wafting through the house.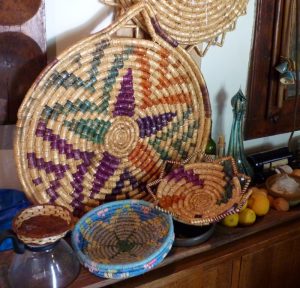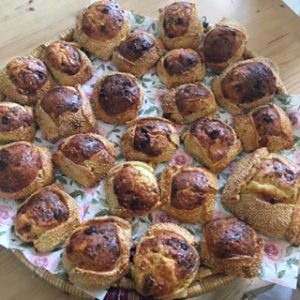 The baked flaounes are arranged on a tsestos – these round, flat tray-like baskets, found all over Cyprus, are made from date palm leaves which are used for the plaited softer baskets and straw. These are made and decorated using coloured straw or as in the Paphos region traditionally, coloured scraps of materials.
This is the smell of Easter and it is a time for our family members to come together to dance and sing; my paternal grandmother used to sing to her flaounes as she put them in the stone oven in her village home in Ayios Tychonas, Limassol, so that they would rise and come out looking and tasting beautiful. Mum has her Greek music on often too loudly!) and we sometimes argue jokingly and tease each other as we each contribute and play our part in making them. Mum makes the pastry the advance so it has time to sit and rise, we make the cheese filling and then after having boiled and dried sesame seeds we are ready to start.
We have a little production line going and we swap roles so we each have a turn at each; rolling out the pastry, smattering the pastry in sesame seeds, filling the pastry with the cheese and egg mixture, folding the flaounes and pressing the corners with a fork to secure the parcels, glazing the top with beaten eggs. This year we noticed how messy Mum was and so Lia and I had to keep clearing and wiping down after her…SO funny!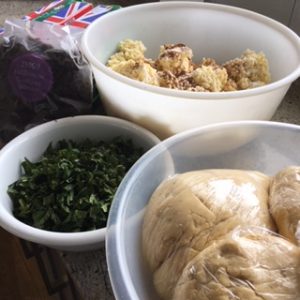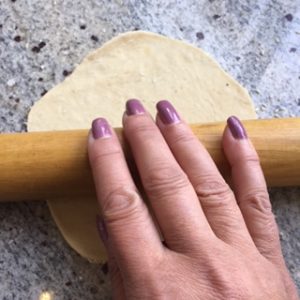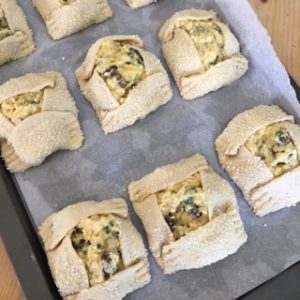 Our traditions always fascinate me and for those of you interested in the history of food this diagram below is just fabulous! It is believed that the word flaouna is reminiscent of an ancient Greek kind of bread made with nuts, called πᾰλάθη (palathi) > fláo  > flaon > flado  > fladonem > fladonis etc.
(Source: https://www.kopiaste.org/2008/04/easter-flaounes/ )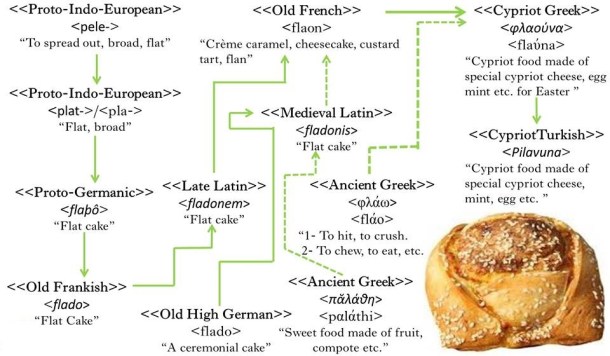 This bread was offered to children, who went from house to house singing about the coming of swallows and spring.
This tradition continued during the Byzantine era and until recent years, a flaouna was offered to children or even grown-ups, as a treat when they went from house to house to announce the resurrection of Christ or to wake up their families and neighbours to go to church for the midnight mass on Easter Saturday.
In my book The Summer Will Come Elena boils and stains eggs red too, another one of our Easter traditions and here is an excerpt from the book for you:
"Elena stayed by the stove and watched as the water bubbled and the orange dye miraculously turned the shell of the eggs a dull cherry-red. Elena scooped them out with a slatted spoon into a bowl, careful not to break the outer shell.
'They don't look nice,' she said, disappointed her efforts had not produced the shining glowy red eggs her mother always made.
'Let them cool down and then you can polish them with olive oil,' said her mother. 'That's what brightens them.'
Once they were cold to touch, Elena used a little cloth dipped in the thick green-tinged oil to give the eggs a beautiful shine. She heaped them into a basket which she carried over to the table and sat them in the middle taking pride of place alongside the tsestos filled with mounds of flaounes, baked early before sunrise. The smell was delicious and Elena licked her lips as her mouth watered, tempted to bite into one. Instead she re-arranged the Easter breads in the shallow basket made from palm leaves."
I hope you've enjoyed reading about this tradition and for those of you celebrating Greek, Greek Cypriot and Orthodox Easter this weekend I wish you and your family love and many blessings as you celebrate.
Xpristos Anesti… Christ has Risen.
With much love always, Soulla x 
---