Welcome and hello!
It's been a busy week with London Book Fair 2022 and as usual there's been a lot of networking, chatter about books and publishing and a whole lot of laughter.
One of the best things about mooching around @londonbookfair is the people you meet who are "it-feels-like-this-was-meant-
to-be" kind of people; likeminded, warm, encouraging, smiley, positive, engaging and… who agree to group photos! *of course, right?*
Meeting Constantia Soteriou, Lina Protopapa, Christiana Christou and Sofia Christou with my wonderful translator Maria Christodoulou was one of the highlights of the book fair for me.
Grateful to everyone who took the time to talk to me about books, publishing, film rights and what next… exciting times, great conversations and the best book talk ever.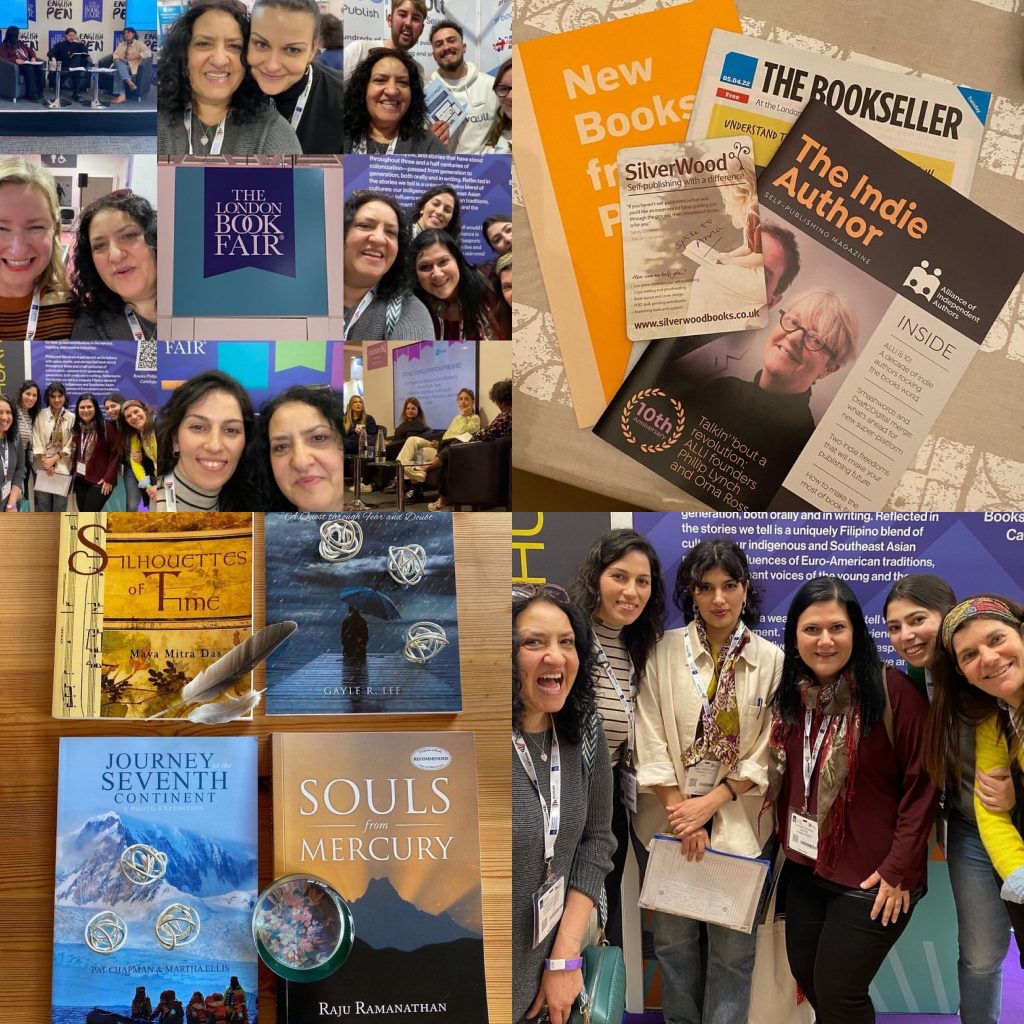 https://www.amazon.co.uk/Summer-Will-Come-Soulla-Christodoulou/dp/1976908043𝐀𝐦𝐚𝐳𝐢𝐧𝐠 𝐭𝐨 𝐦𝐞𝐞𝐭 Constantia Soteriou and 𝐋𝐢𝐧𝐚 𝐏𝐫𝐨𝐭𝐨𝐩𝐚𝐩𝐚𝐬 𝐚𝐭 𝐭𝐡𝐞 𝐀𝐥𝐥 𝐖𝐚𝐥𝐥𝐬 𝐂𝐨𝐥𝐥𝐚𝐩𝐬𝐞 𝐜𝐨𝐧𝐯𝐞𝐫𝐬𝐚𝐭𝐢𝐨𝐧 — 𝐂𝐲𝐩𝐫𝐮𝐬, 𝐚 𝐝𝐢𝐯𝐢𝐝𝐞𝐝 𝐜𝐨𝐮𝐧𝐭𝐫𝐲, 𝐰𝐢𝐭𝐡 𝐬𝐨 𝐦𝐮𝐜𝐡 𝐡𝐢𝐬𝐭𝐨𝐫𝐲 𝐚𝐧𝐝 𝐭𝐫𝐚𝐮𝐦𝐚 𝐚𝐧𝐝 𝐜𝐮𝐥𝐭𝐮𝐫𝐞 𝐰𝐡𝐢𝐜𝐡 𝐜𝐚𝐧𝐧𝐨𝐭 𝐛𝐞 𝐢𝐠𝐧𝐨𝐫𝐞𝐝. 𝐀 𝐬𝐮𝐛𝐣𝐞𝐜𝐭 𝐜𝐥𝐨𝐬𝐞 𝐭𝐨 𝐦𝐲 𝐡𝐞𝐚𝐫𝐭 𝐚𝐧𝐝 𝐭𝐡𝐞 𝐛𝐚𝐜𝐤𝐝𝐫𝐨𝐩 𝐭𝐨 𝐦𝐲 𝐨𝐰𝐧 𝐧𝐨𝐯𝐞𝐥 𝐓𝐇𝐄 𝐒𝐔𝐌𝐌𝐄𝐑 𝐖𝐈𝐋𝐋 𝐂𝐎𝐌𝐄.
𝐒𝐞𝐥𝐟𝐢𝐞 𝐭𝐢𝐦𝐞 — 𝐎𝐮𝐫 𝐇𝐨𝐮𝐬𝐞 𝐚𝐮𝐭𝐡𝐨𝐫 Louise Candlish. Did you watch the series on TV? Loved it right up until that mad twist of fate at the end… I was gutted!
𝐈 𝐠𝐨𝐭 𝐭𝐨 𝐬𝐩𝐞𝐧𝐝 𝐬𝐨𝐦𝐞 𝐦𝐨𝐫𝐞 𝐭𝐢𝐦𝐞 𝐰𝐢𝐭𝐡 𝐦𝐲 𝐰𝐨𝐧𝐝𝐞𝐫𝐟𝐮𝐥 𝐭𝐫𝐚𝐧𝐬𝐥𝐚𝐭𝐨𝐫, 𝐨𝐟 𝐓𝐇𝐄 𝐒𝐔𝐌𝐌𝐄𝐑 𝐖𝐈𝐋𝐋 𝐂𝐎𝐌𝐄 𝐢𝐧𝐭𝐨 𝐆𝐫𝐞𝐞𝐤, Maria Christodoulou.
𝐌𝐞𝐭 𝐭𝐰𝐨 𝐰𝐨𝐧𝐝𝐞𝐫𝐟𝐮𝐥 𝐥𝐚𝐝𝐢𝐞𝐬 𝐟𝐫𝐨𝐦 the bookshop S𝐨𝐥𝐨𝐧𝐞𝐢𝐨𝐧 𝐢𝐧 𝐍𝐢𝐜𝐨𝐬𝐢𝐚, 𝐂𝐲𝐩𝐫𝐮𝐬 𝐰𝐡𝐢𝐜𝐡 𝐡𝐚𝐬 𝐩𝐚𝐩𝐞𝐫𝐛𝐚𝐜𝐤 𝐜𝐨𝐩𝐢𝐞𝐬 𝐨𝐟 𝐓𝐇𝐄 𝐒𝐔𝐌𝐌𝐄𝐑 𝐖𝐈𝐋𝐋 𝐂𝐎𝐌𝐄.
𝐀𝐧𝐝 𝐟𝐢𝐧𝐚𝐥𝐥𝐲 𝐚 𝐬𝐞𝐦𝐢𝐧𝐚𝐫 𝐨𝐧 𝐢𝐥𝐥𝐮𝐬𝐭𝐫𝐚𝐭𝐢𝐨𝐧 𝐚𝐧𝐝 𝐛𝐨𝐨𝐤 𝐜𝐨𝐯𝐞𝐫 𝐝𝐞𝐬𝐢𝐠𝐧 𝐰𝐡𝐢𝐜𝐡 𝐡𝐚𝐬 𝐠𝐢𝐯𝐞𝐧 𝐦𝐞 𝐚𝐧𝐝 @𝐚𝐧𝐧𝐞_𝐣𝐨𝐡𝐧𝐥𝐢𝐠𝐚𝐥𝐢 𝐚 𝐜𝐨𝐮𝐩𝐥𝐞 𝐨𝐟 𝐩𝐨𝐢𝐧𝐭𝐞𝐫𝐬 𝐫𝐞𝐠𝐚𝐫𝐝𝐢𝐧𝐠 𝐭𝐡𝐞 𝐜𝐨𝐯𝐞𝐫 𝐟𝐨𝐫 𝐓𝐇𝐄 𝐕𝐈𝐋𝐋𝐀𝐆𝐄 𝐇𝐎𝐔𝐒𝐄 𝐰𝐡𝐢𝐜𝐡 𝐬𝐢𝐦𝐩𝐥𝐲 𝐢𝐬 𝐟𝐚𝐛𝐮𝐥𝐨𝐮𝐬! 𝐓𝐫𝐮𝐥𝐲 𝐠𝐫𝐚𝐭𝐞𝐟𝐮𝐥 𝐭𝐨 @𝐟𝐚𝐛𝐞𝐫𝐛𝐨𝐨𝐤𝐬 𝐚𝐧𝐝 @𝐛𝐥𝐨𝐨𝐦𝐬𝐛𝐮𝐫𝐲𝐩𝐮𝐛𝐥𝐢𝐬𝐡𝐢𝐧𝐠 𝐟𝐨𝐫 𝐭𝐡𝐞𝐢𝐫 𝐜𝐫𝐞𝐚𝐭𝐢𝐯𝐞 𝐚𝐝𝐯𝐢𝐜𝐞.
𝐓𝐡𝐚𝐧𝐤 𝐲𝐨𝐮 𝐭𝐨𝐨 @𝐦𝐞𝐬𝐭𝐢𝐮𝐦𝐢𝐫𝐚 𝐟𝐨𝐫 𝐚 𝐠𝐫𝐞𝐚𝐭 𝐜𝐚𝐭𝐜𝐡 𝐮𝐩 𝐨𝐯𝐞𝐫 𝐚 𝐜𝐮𝐩𝐩𝐚 𝐚𝐧𝐝 𝐭𝐨 𝐭𝐡𝐞 𝐭𝐞𝐚𝐦 𝐚𝐭 @𝐛𝐨𝐨𝐤𝐯𝐚𝐮𝐥𝐭_𝐚𝐩𝐩 𝐟𝐨𝐫 𝐭𝐡𝐞𝐢𝐫 𝐟𝐫𝐢𝐞𝐧𝐝𝐥𝐲 𝐰𝐞𝐥𝐜𝐨𝐦𝐞 𝐚𝐧𝐝 𝐟𝐨𝐫 𝐬𝐡𝐚𝐫𝐢𝐧𝐠 𝐭𝐡𝐞𝐢𝐫 𝐩𝐮𝐛𝐥𝐢𝐬𝐡𝐢𝐧𝐠 𝐩𝐫𝐨𝐜𝐞𝐬𝐬 𝐚𝐧𝐝 𝐦𝐨𝐝𝐞𝐥 𝐰𝐢𝐭𝐡 𝐦𝐞.
It's been a busy time. Hope you're having a good week and catch up soon.
With much love, Soulla xxx