It is with so much excitement that I am sharing with you the opening of my new soon-to-be-published book, Alexander and Maria. 
I have recently signed a publishing contract with The Conrad Press with a view to releasing the book on 30th November 2020.
It's very soon! I've been working hard on edits and rewrites, some feedback from my beta readers and of course the feedback received from James Essinger of The Conrad Press.
I hope you enjoy what you read here and that my story will capture your intrigue enough to buy the book when it is released.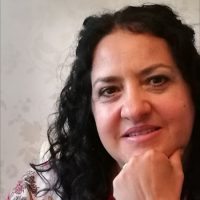 I have a check-up at the clinic in Inverness, a few minutes' drive from home; a familiar burst of irritability fills my insides. The routine hasn't changed in over twenty years, the nurses have come and gone, but the procedures, even the conversations, have remained the same, as have the outcomes and diagnosis. Maybe today will be different.
'I'm just off now, Sandra sweetheart.' She barely gives me a sideways glance; flicking from one TV channel to the other, puffing on her cigarette.
I open the front door, Caramel slinks past me; the morning's icy blast lapping at my feet. She disappears, like a garden ghost, behind the emerald privet hedge, glistening with the morning frost, and emerging again, she dashes across the road. I envy her speed, her agility, her freedom to come and go. My envy is tinged green in the whites of my eyes and in the recesses of my mind, in my plodding steps…
With a storyline which touches on the book Love Virtually by Daniel Glattauer and Me Before You by Jojo Moyes, it is essentially about two older adults, Alexander and Maria, who looking for acceptance, adoration and fulfillment, befriend each other across Twitter; a platform they are both new to. The man is locked in a loveless, cold marriage and has always hidden from life behind his Cerebral Palsy. The woman, a single mother, is still reeling from her husband's gambling and abandonment from years ago. Their messaging builds momentum; Alexander is physically attracted to her and Maria is drawn in by his intellect and poetic prose. They quickly engage in an all-consuming online relationship and eventually meet in London. Their physical attraction becomes real and emotions are high. They both want to find a way to be together and a shocking revelation by his wife confuses Alexander's decision to leave. Maria however faces a complication too when her teenage daughter reveals she is pregnant. Will the time to be together be right for them?
I hope you will read the story of Alexander and Maria when it is released by The Conrad Press on 30th November 2020. Your support has always been amazing!
With much love, Soulla xxx